Alphabet Fleet Inn
Conveniently located 9-room bed & breakfast
24 Toulinquet Street, Twillingate
709-884-1290 (June – September)
1-800-450-3950 (Toll-Free)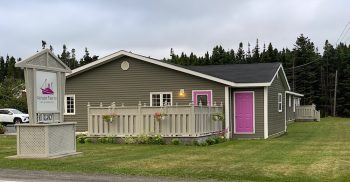 The Alphabet Fleet Inn  Bed & Breakfast (rated 4-star) is conveniently located as the first accommodations on Route 340 (Toulinquet Street) as you enter the town of Twillingate.
It offers a relaxed atmosphere; all rooms are on the ground level with en-suite bathrooms, cable TV, refrigerators and Wi-Fi.
Breakfast is a combination of home-style bread, juices, milk, hot and cold cereals, fruit, yogurt, homemade jams, coffee and tea.
Close to boat tours, iceberg/whale watching, hiking trails, art galleries, restaurants, museums, a lighthouse, a winery, root cellars, and craft shops.
It is well located for a  day trip to Fogo Island or Change Island.
Amenities
Breakfast included
Free Wifi
Free Parking
A choice of rooms with queen beds or queen and double beds
En-suite bathrooms
Wheelchair accessible room
Refrigerator in each room
Communal living room
Large breakfast dining room
Rated 4-star by Canada Select
The Alphabet Fleet Inn is also a great location for families and groups travelling together.
Rates
Single Room: 
Starting at $155 + HST
Includes queen bed, private bathroom with shower.
Maximum 2 guests.
Larger Single Room: 
Starting at $165 + HST
Includes queen bed, private bathroom with shower.
Maximum 2 guests.
Double Room
Starting at $175 + HST
Includes queen bed, double bed, private bathroom with shower.
Maximum 4 guests.
Children under the age of 8 years stay for free.
Room rates are based on a maximum of double occupancy.
Additional persons in a room will be charged an additional $15.00 per night where occupancy allows.
Room rates include a continental breakfast for each guest.
Bookings
  Request a Booking
  stay@twillingate.com
  1-800-450-3950 (Toll-free)
  +1(709) 884-2777 (Main Reservation line)
  +1(709) 884-1290 (In Season: June to September)
Policies & Terms & Conditions
Payment Methods
Cash, Credit Card (Visa, MasterCard & Debit Cards)
Reservations must be secured with a credit card (charged only upon arrival)
Check-in/out
Check-in:    3:00 pm. to 6:00 pm. (Please notify us if you plan to arrive later)
Check-out: 10:30 am.
Cancellation
Cancellations have to be received more than 72 hours before 3pm check-in.
Cancellation in less than 72 hours or non-arrival will be billed at the standard rate.
Smoking
A smoke-free environment.
Pets
A pet-free environment
Quiet Policy
In order to help ensure everyone's rest and relaxation, the property's quiet hours are from 10 pm. – 7 am. During this time only registered guests allowed in rooms.