Getting Screeched In
April 23, 2019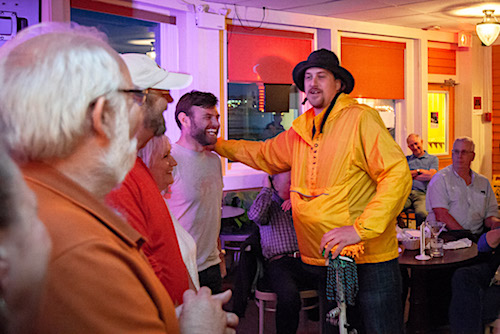 The Screech In ceremony is a Newfoundland tradition that has become increasingly popular in recent times and none are more popular than at Captain's Pub in Twillingate.
The success of Broadway show, Come From Away, has put Newfoundlanders with their generosity, quirky sense of humour and traditions on the centre stage globally. It has also brought a renewed interest in visiting this remote island in the North Atlantic. Folks who hear about it, line up to be 'screeched in' and become 'honorary Newfoundlanders'.
On 17 May 2019 the popular Kitchen Party show at Captain's Pub starts again with musician Mike Sixonate performing Monday to Saturday from 8:30 pm.
During intermission at the halfway mark, the show halts and a completely new show starts: visitors and "Come From Aways" line up to kiss the cod and knock back the Screech with a few newly learned lines in Newfinese.  The cherry on top? The certificate of accomplishment of course, confirming a brand new status as Honorary Newfoundlander. (Read a bit more about where Screech come from)
If you plan to visit Twillingate and wish to acquire this coveted status in the most memorable fashion, Mike announces the sign-up at the start of his show every evening. Just sign up at the bar!