Waste Management
May 14, 2019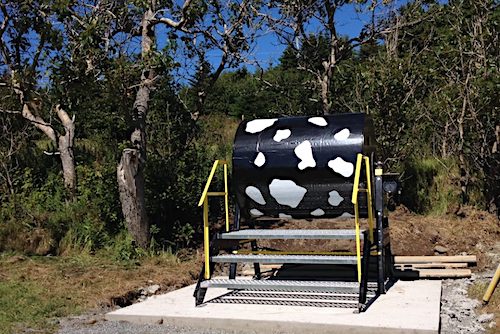 Waste management in a hotel has become a big and costly issue, especially when trying to implement environmentally friendly practices.
Since 2011 the team at the Anchor Inn Hotel has made a concerted effort to divert waste from the dump in many areas of the business.  This journey is ongoing but our efforts have brought us many benefits.
Compost
Today we emptied out Daisy our "Cowposter". Organic waste from Georgie's Restaurant and shredded paper get composted and after a year, the result is rich dark compost.
Since installing the commercial composter in 2012 in partnership with the Multi-Materials Stewardship Board (MMSB), we estimate that between 4.5 and 5 thousand lbs of waste have been turned into compost.
Compost is worked into the hotel gardens where we grow herbs, potatoes, and other vegetables for use in the restaurant kitchen. Considering how poor Newfoundland's soil naturally is, this rich black compost becomes very valuable in our gardens.
Paper Recycling
Paper is a significant source of waste in many businesses.  The hotel shreds most of is paper that cannot be re-used and for the past few years, this has been composted as well. Cardboard is recycled separately with the municipal waste management system.
Straws and Plastic
The sensitivity about plastics in the environment is growing.  Twillingate, being an island, is especially aware of the risk of plastic in our ocean and in 2019 the town of Twillingate has banned the use of plastic bags in stores completely.  The Anchor Inn Hotel has eliminated plastic straws and plastic bags in its business as well. (Straws are on hand for someone who specifically requests it.)
Recycling
In 2011 the Anchor Inn Hotel started to focus on keeping plastic and glass bottles and beverage cans from the dump and through active recycling, recycling receptacles on the property and in the hotel rooms.  We estimate that between 15,000 – 20,000 cans and bottles are recycled each year.
Work Continues…
We have made inroads into protecting our environment, but we continue to look for improvements. So much of what gets consumed in the hospitality industry (just think room amenities), comes in a single-use plastic container and we continue to look for better solutions.  We encourage ideas and suggestions from our guests as well, as to how we can further protect our environment.
If you have a suggestion, find us on email or on social media and share your ideas with us.