Vacation Home Living in Twillingate
December 24, 2017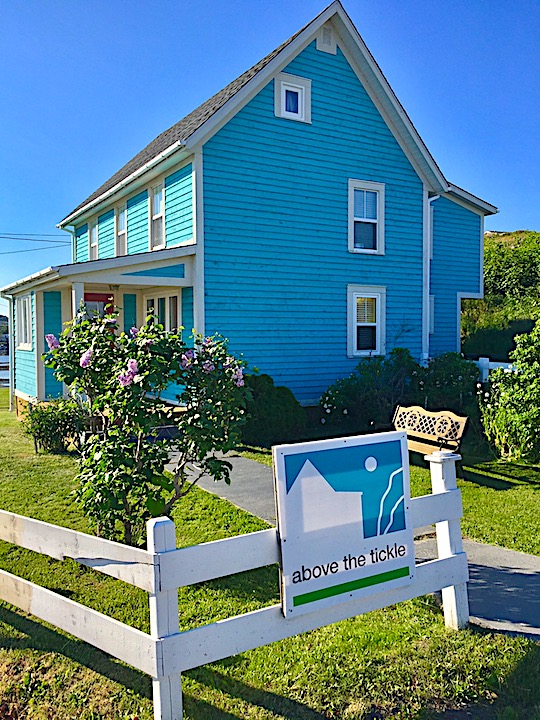 Memories of family vacations create a bond that keeps friends and families close, keeps them laughing and that gives meaning to living.  There is no better vacation than one at the ocean with space to unwind and create special times.
Above the Tickle is a picturesquely restored vacation home in the heart of Twillingate that offers just this.  Originally owned by the Hodder family where Eddie Hodder lived with his sisters, Emma and Minnie, some of the sisters' favourite peonies, lilacs and roses are still blooming in the beautiful garden.
Eddie was a cooper and a business man, trading in fish. Before renovating Above the Tickle in 2009, Eddie's handwritten receipt books, his stencils used for marking boxes of fish and some of his woodworking tools took one to a time since long gone.
Today this is home to many folks who plan an adventure in Twillingate.  It's a short walk from the new craft brewery and the fish market across the road.  Restaurants and entertainment are just a short distance away.
For many Above the Tickle becomes the base for exploring on a day trip to Fogo Island & Change Islands, or Campbellton for strawberry picking at Paul Thornley's U-Pick and a fresh lobster roll at Treats from the Sea nearby.
Not only is this a comfortable spot to kick off your shoes, but it also tells stories of a time gone by!
To book, call 1-800-450-3950 or email contact@twillingate.com.